News
Ancient world geography / Anne Paulus
Exhibition
15th October 2019 - 18th January 2020
Galerie Max Jacob, Médiathèque Alain-Gérard, Quimper
Une récolte inattendue
Traineeship
1st to 10th November 2019
Japanese artists Toshiko Hoshida and Kayoko Sakamoto invite French artists Catherine Gillet and Anne Paulus for a print exhibition in Konoha Gallery, Tokyo.
Address :
Konoha Gallery
2 Mikura-cho, Chiyoda-ku, Tokyo
tel : (03) 3256-2047
Opening party 1st November 5.00pm – 7.00 pm
This exhibition est preceded and followed by 2 other print show Une récolte inattendue, in Gallery  Stage-1 (21 -> 26/10) et in Gallery Sekka-Bordeless space (6 -> 17/11).
All the information (artists presentation, addresses, opening hours) in presentation document.
Curators : Toshiko Hoshida et Kayoko Sakamoto.
Galerie Konoha, Tokyo, Japan
L'expérience du choix, Collection Gautier & Co
Exhibition, Traineeship
du 14 janvier au 3 mars 2019
La ville de Cachan présente la collection  [GAUTIER & Co], une collection d'art contemporain abstrait à travers l'expérience du choix (une exposition à vivre).
La ville de Cachan, invite les GAUTIER, qui habitent Cachan depuis 25 ans, à exposer plus de 100 oeuvres, une partie de leur collection (qui comporte plus de 300 pièces).
La collection [GAUTIER & Co] est le résultat de l'intérêt de Françoise et Bernard GAUTIER pour les arts visuels. Dès leur adolescence, ils ont eu besoin de vivre entourés d'oeuvres, surtout abstraites. Pour des raisons de budget, il s'agissait surtout au début, d'affiches, d'estampes (multiples) ou de petites oeuvres originales. C'est aujourd'hui, après plus de 40 ans, une collection cohérente et diversifiée, comprenant aussi des peintures sur papier et sur toile de grand format, des sculptures, des vidéos… Leurs choix sont intuitifs, mais s'appuient sur une vaste documentation et une connaissance des galeries et librairies, des ateliers d'artistes, du terrain, que ce soit pour l'architecture, le paysage et les oeuvres in situ…
Orangerie de Cachan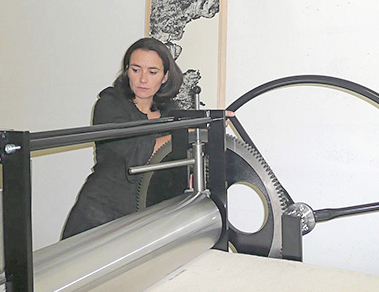 Anne Paulus originally qualified and worked in a scientific field, but subsequently attended Versailles school of Fine Art. She lives and works near Paris, where she explores the poetic links between etching, printmaking and ceramics. She teaches contemporary printing technics and leads training courses in her studio. Anne Paulus often shows her prints in France and abroad.

Watch the film about Anne Paulus directed by Benoit Falize
In Anne Paulus' workshop (2015) – 45 min