News
Palimpsest
Traineeship
June 1 - July 8, 2017
Exhibition with 18 artists of Galerie Schumm-Braunstein. Paintings, sculptures, photographs, prints, céramics, artist books, drawings,…
Galerie Schumm-Braunstein - 9 rue de Montmorency Paris 3e
Les chemins de l'estampe
Exhibition
May 26 - June 5, 2017
Prints and ceramics exhibition with Frédérique Galey-Jacob, Catherine Gillet, Sun-Hee Lee, Anne Paulus, Rosemary Piolais et Pascale Simonet.
Chateau de Nogent le Roi - allée Jeanne de France - 28120 Nogent le Roi
Estampes+
Exhibition
May 18 - June 17 and July 7-29
International print exhibition curated by Akané Kirimura with 7 artists.
Galerie Grand E'terna, 8 rue de Miromesnil, Paris 8e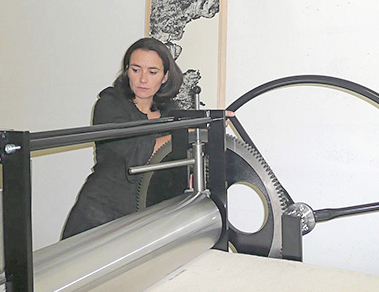 Anne Paulus originally qualified and worked in a scientific field, but subsequently attended Versailles school of Fine Art. She lives and works near Paris, where she explores the poetic links between etching, printmaking and ceramics. She teaches contemporary printing technics and leads training courses in her studio. Anne Paulus often shows her prints in France and abroad.

Watch the film about Anne Paulus directed by Benoit Falize
In Anne Paulus' workshop (2015) – 45 min