News
Les chemins du carton gravé, Dominique Moindraut et Cie
Exhibition
November 16, - December 8, 2018
Dominique Moindraut présente une rétrospective de son œuvre gravé. Les estampes exposées témoigneront de 30 ans de ses recherches et de ses réalisations fondées sur le carton gravé.
L'exposition présentera également les estampes de 25 artistes invités par Dominique Moindraut.
L'Entr@cte, 3 rue de Versailles, 92410 Ville d'Avray
Biblos
Exhibition, Traineeship
du 8 novembre au 20 décembre 2018
Gallery Schumm-Braunstein, Paris, présents a collective exhibition about artist's books, prints,drawings and photography.
On this occasion will be presented Pavé de mémoire, a flet artist book published by Éditions GSB with 
Christian Doumet (author) and Anne Paulus (artist)
.
Opening reception for 
BIBLOS
 :
 Thursday, November 8, 2018, 6.00 pm
Opening hours : everyday from tuesday to saturday from de 2.30 pm  to 7.00 mp and by appointment.
Galerie Schumm-Braunstein, 9 rue de Montmorency, 75003 Paris
Sud Estampe, Anne Paulus at Saint-Quentin-la-Poterie museum
Event, Exhibition
du 3 novembre au 20 décembre 2018
During Sud Estampe biennal in south of France, Anne Paulus is invited to show her prints among Saint-Quentin-la-Poterie ceramic museum. 

Opening event : Saturday 3 November 11.00 am
Musée de la poterie méditerranéenne, 14 place de la Fontaine 30700 Saint-Quentin-la-Poterie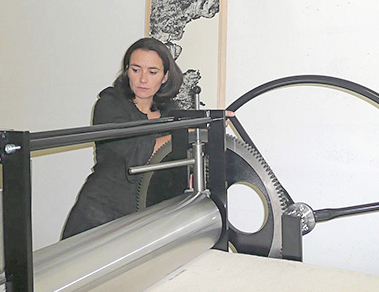 Anne Paulus originally qualified and worked in a scientific field, but subsequently attended Versailles school of Fine Art. She lives and works near Paris, where she explores the poetic links between etching, printmaking and ceramics. She teaches contemporary printing technics and leads training courses in her studio. Anne Paulus often shows her prints in France and abroad.

Watch the film about Anne Paulus directed by Benoit Falize
In Anne Paulus' workshop (2015) – 45 min