News
Îles
Exhibition
du 14 mars au 5 juillet 2020
Malgré la disparition soudaine de Maurice Maillard, son président, et selon ses voeux, l'association Le Trait-Graveurs d'aujourd'hui présente une exposition autour du dernier Cahier du Trait intitulé Îles.
47 artistes présentent des estampes autour de cette thématique au sein de la galerie de La Halle de Saint-Aubin-sur-Mer (14).
Vernissage le 14 mars 2020 à 11h
Expo prolongée jusqu'au 5 juillet
Galerie La Halle, 72 bis rue Pasteur, 14750 Saint-Aubin-sur-Mer
Ouvert du mercredi au dimanche de 15h à 18h.
NB : 10 personnes maximum autorisées simultanément dans l'espace d'exposition.
La Halle, Saint-Aubin-sur-Mer (14)
Ancient world geography / Anne Paulus
Exhibition
15th October 2019 - 18th January 2020
Galerie Max Jacob, Médiathèque Alain-Gérard, Quimper
Une récolte inattendue
Traineeship
1st to 10th November 2019
Japanese artists Toshiko Hoshida and Kayoko Sakamoto invite French artists Catherine Gillet and Anne Paulus for a print exhibition in Konoha Gallery, Tokyo.
Address :
Konoha Gallery
2 Mikura-cho, Chiyoda-ku, Tokyo
tel : (03) 3256-2047
Opening party 1st November 5.00pm – 7.00 pm
This exhibition est preceded and followed by 2 other print show Une récolte inattendue, in Gallery  Stage-1 (21 -> 26/10) et in Gallery Sekka-Bordeless space (6 -> 17/11).
All the information (artists presentation, addresses, opening hours) in presentation document.
Curators : Toshiko Hoshida et Kayoko Sakamoto.
Galerie Konoha, Tokyo, Japan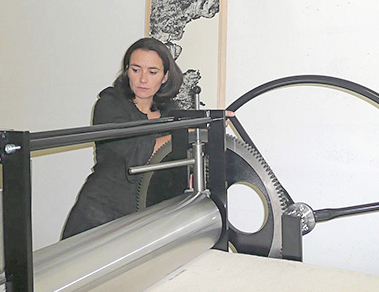 Anne Paulus originally qualified and worked in a scientific field, but subsequently attended Versailles school of Fine Art. She lives and works near Paris, where she explores the poetic links between etching, printmaking and ceramics. She teaches contemporary printing technics and leads training courses in her studio. Anne Paulus often shows her prints in France and abroad.

Watch the film about Anne Paulus directed by Benoit Falize
In Anne Paulus' workshop (2015) – 30 min