News
French-Japanese Outotsu print show
Exhibition
in Paris, May 14 - 26 and in Tokyo, August 22 - 30, 2018
Outotsu studio from Osaka (Japon) and artist Ritsuwo Kanno organise the 4th French-Japanese print show in Paris (in the Cité internationale des arts).
For the first time, the whole exhibition will be showed thereafter in August in Tokyo (at the metropolitan museum of art).
Opening ceremony in Paris : May 14,  6 pm – 9 pm
Opening hours in Paris : from Monday to Saturday 2 pm – 7 pm
Galerie de la Cité internationale des arts, 18 quai de l'Hôtel de Ville Paris 4e
Estampes +
Event
May 17 - June 23 and July 16 - August 25, 2018
Grand E'terna Gallery in Paris and Akane Kirimura présent Estampes +, an international  contemporary print exhibition.
Artists : Akira Abe, burin (Japon) – Katherine Jones, collagraphie et gravure (Royaume-Uni) – Tiina Kivinen, manière noire et pointe-sèche (Finlande) – Akané Kirimura, technique mixte (France) – Mitsouko Mori, sérigraphie (France) – Anne Paulus, gravure (France) – Aine Scannell, technique mixte (Royaume-Uni) – Go Segawa, impressions pigmentaires (France) – Kanako Watanabe, gravure sur bois (Japon).
Opening reception 17 May, 18.30 – 21.00
Opening hours from Monday to Saturday  11.00 – 13.00 and 14.00- 19.00
Galerie Grand E'terna, 3 rue de Miromesnil Paris 8e
L'estampe
Exhibition
April 21 - June 3, 2018
Martine Cazin and la Maison de Brian, gallery, presents a selection of prints from 10 artists : Marc Bouygard, Valérie Buffetaud, Luc Gerbier, Dominique-Louis Héraud, John Hopkins, Corinne Leforestier, Eve Luquet, Dadou Roche, Judith Rothchild and Elisabeth Salmon.
Anne Paulus will present 30 ceramics and prints.
Opening ceremony with the  artists Saturday April 21 at 18.00
Opening hours : from Wednesday to Sunday (and holidays)  14.00 – 18.00 and on appointment
Galerie La Maison de Brian, Simiane-la-Rotonde (04150)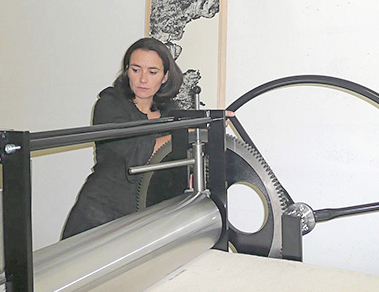 Anne Paulus originally qualified and worked in a scientific field, but subsequently attended Versailles school of Fine Art. She lives and works near Paris, where she explores the poetic links between etching, printmaking and ceramics. She teaches contemporary printing technics and leads training courses in her studio. Anne Paulus often shows her prints in France and abroad.

Watch the film about Anne Paulus directed by Benoit Falize
In Anne Paulus' workshop (2015) – 45 min