News
Nova descriptio – échos
Exhibition
December 8-22, 2017 and January 9-27, 2018
Galerie Schumm-Braunstein
SOON Paris
Event
December 1 - 3, 2017
Contemporary limited edition art fair
Bastille Design Center, 74 Bd Richard Lenoir, Paris 11e
Neuf Lauréats du prix Regner-Lhotellier
Exhibition
December 2 - 17, 2017
Exhibition presented by the "association des amis de Alfred-Georges Regner et Henry Lhotellier".
Opening party : December 1st , 18.00
Manifestampe, 5 rue Pierre Sémard Paris 9e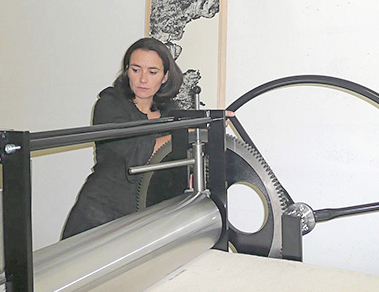 Anne Paulus originally qualified and worked in a scientific field, but subsequently attended Versailles school of Fine Art. She lives and works near Paris, where she explores the poetic links between etching, printmaking and ceramics. She teaches contemporary printing technics and leads training courses in her studio. Anne Paulus often shows her prints in France and abroad.

Watch the film about Anne Paulus directed by Benoit Falize
In Anne Paulus' workshop (2015) – 45 min