news, exhibitions, events, engraving traineeships
December 8-22, 2017 and January 9-27, 2018
Exhibition
Nova descriptio – échos
Galerie Schumm-Braunstein
December 1 - 3, 2017
Event
SOON Paris
Bastille Design Center, 74 Bd Richard Lenoir, Paris 11e
Contemporary limited edition art fair
December 2 - 17, 2017
Exhibition
Neuf Lauréats du prix Regner-Lhotellier
Manifestampe, 5 rue Pierre Sémard Paris 9e
Exhibition presented by the "association des amis de Alfred-Georges Regner et Henry Lhotellier".
Opening party : December 1st , 18.00
du 23 au 19 octobre 2017
Exhibition
Galerie Sugino
galerie Sugino, GInza, Tokyo, Japon
Exposition internationale
June 1 - July 8, 2017
Traineeship
Palimpsest
Galerie Schumm-Braunstein - 9 rue de Montmorency Paris 3e
Exhibition with 18 artists of Galerie Schumm-Braunstein. Paintings, sculptures, photographs, prints, céramics, artist books, drawings,…
May 26 - June 5, 2017
Exhibition
Les chemins de l'estampe
Chateau de Nogent le Roi - allée Jeanne de France - 28120 Nogent le Roi
Prints and ceramics exhibition with Frédérique Galey-Jacob, Catherine Gillet, Sun-Hee Lee, Anne Paulus, Rosemary Piolais et Pascale Simonet.
May 18 - June 17 and July 7-29
Exhibition
Estampes+
Galerie Grand E'terna, 8 rue de Miromesnil, Paris 8e
International print exhibition curated by Akané Kirimura with 7 artists.
4e cahier du Trait "Îles"
Galerie Schumm-Braunstein- 9 rue de Montmorency Paris 3
Signature event for the 4th "Cahier du Trait" titled "Îles" (Islands) with three writers,Nicole Malinconi, Paul-Louis Rossi, et James Sacré, and three artists Anne Paulus, Christiane Vielle and Wang Suo Yuan.
May 5 - June 6, 2017
Exhibition
Carton, matière à graver
Le Château des Tourelles, 19 avenue de la maréchale, 94420 Le Plessis-Trévise
6th CODEX Biennal Berkeley (CA)
Stand Editions GSB - The Craneway Pavilion 1414 Harbor Way South Richmond, Californie, USA
6th Artist book Fair organized by Berkeley university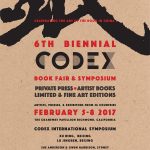 October 12 - 16 2016
Event
Salon d'Automne
Pavillon des Champs Elysées - Paris (8ème)
October 8 - November 13 2016
Event
"Collection Gautier & C°"
Les moyens du bord - 41, Quai du Léon - Morlaix (Finistère)
October 7 - 9 2016
Exhibition
"AMTM art expo"
Cité internationale des arts - 18, quai de l'Hôtel de Ville, Paris (4ème)
"Inshou, impressions croisées"
5, rue Pierre Semard - Paris (9ème)
September 22 - October 6 2016
Event
"Polyptyque, Jeune gravure contemporaine"
Mairie du 6ème Arrondissement - Paris (4ème)