news, exhibitions, events, engraving traineeships
du 1er décembre 2022 au 14 février 2023
Exhibition, Traineeship
Affinités coréennes, suite et fin provisoire
Galerie Schumm-Braunstein, 9 rue de Montmorency 75003 Paris
PROLOGATION JUSQU'AU 14 FEVRIER
La Galerie s'est inscrite, pendant cette année 2022, dans un « cycle coréen » avec deux expositions personnelles, de KIM YUN Eun Kyoung et KIM Myoung Nan, puis en proposant une exposition collective dans le cadre de l'ensemble de manifestations liées à la gravure sur bois, en Corée (Gimpo) et à Paris (Centre culturel Coréen, École des Beaux-arts de Versailles), sous le vocable «Affinités, rencontre de Gyeol».Dans cette « suite et fin provisoire » d'affinités coréennes, la Galerie souhaite encore célébrer l'estampe et cet art si spécifique de la gravure sur bois, également par le livre d'artiste. Et célébrer aussi les suites contemporaines, issues de l'art ancestral de la calligraphie, avec des encres peintes sur ces merveilleux papiers de mûrier coréens.
Avec les oeuvres de :
CHOI Kyoungim
HONG Seon Wung
KIM Myoung Nam
Anne PAULUS
KIM Sang Ku
KIM Eok
AN Jeong Min
KIM Hui Kyoung
KIM YUN Eun Kyoung
Vernissage le 1er décembre de 17h à 20h
Entrée libre du mardi au samedi de 14h30 à 19h
NB : La Galerie sera fermée du 19 décembre 2022 au 2 janvier 2023.
Télécharger le carton d'invitation
du 17 novembre 2022 au 21 janvier 2023
Exhibition, Traineeship
Multiple & Papier
Galerie Grand E'terna, 3 rue de Mirosmesnil, Paris 8e
La galerie Grand E'terna Paris présente une exposition franco-japonaise d'estampes et d'oeuvres sur papier contemporaines dont le commissariat est assuré par l'artiste Akané Kirimura. Avec les oeuvres de : Akané Kirimura, Catherine Gillet, Toshiko Hishida, Mayumi Inoue, Mitsouko Mori, Anne Paulus, Go Segawa et Harué Takami.
Horaires d'ouverture : du lundi au samedi 11h-13h / 14h-19h
Vernissage : le jeudi 17 novembre de 18h30 à 21h en présence de nombreux artistes
Contact : eterna008@gmail.com et tél. : 01 42 65 14 46
.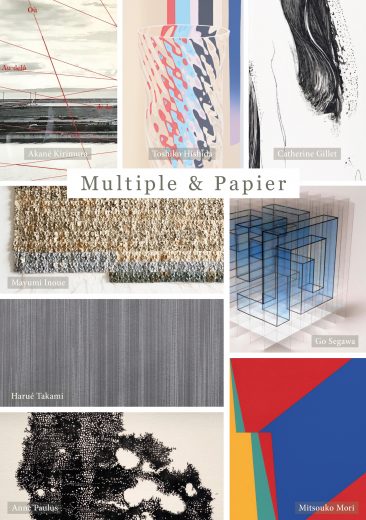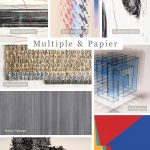 19 May - 6 June, 2021
Exhibition
Terre d'estampes
Galerie de l'Entr@cte 3 rue de Versailles à Ville d'Avray (92)
Proposed and organized by Anne Paulus and Sophie Domont, this exhibition brings together, in the same scenographic space, prints (etchings, lithographs, monotypes…) in dialogue with ceramic sculptures. This exhibition will bring together nearly 80 works by 17 French and international artists.
The idea of such a proposal was born from a double interest of the curator artists for these two means of plastic expressions. It appeared to them that a number of visual artists and collectors have developed complementary sensibilities through contact with these two arts, two mediums which, in each discipline, cover a very broad spectrum of techniques and sensibilities.
Printmaking and ceramics are both arts of transposition and unveiling. Indeed, the artist does not directly see the final work appear before his eyes during the creative process. While the engraver only discovers the print once it has passed through the press, the ceramist must wait until the end of the firing process to open his kiln and see the final result of his work.
Structured as a journey through 7 spaces, the exhibition offers to see works in dialogue with each other, revealing sensitive correspondences.
A 68-page catalog has been published for the occasion. It will be on sale on site and by mail order at terredestampes@gmail.com
Two free tours/lectures by the curators will be offered to the public on Wednesday, May 26 (official day of the Fête de l'estampe, French Print Festival) and Sunday, June 6, 2021 at 4pm.
Exhibiting artists: Brigitte Banet, Rose Coogan, Sophie Domont, Carina Fihn, Thomas Fouque, Corinne Guého, Marie Heughebaert, Vincent Lallier, Julian Lemousy, Iris Miranda, Anne Paulus, Bernard Remusat, Anne-Marie Rubi, Stéphanie de Saint Marc, Pascale Simonet, Isabelle Thibault and Raúl Villullas.
Curator: Sophie Domont and Anne Paulus
Partners: Ville d'Avray and Crédit Mutuel de Sèvres-Chaville
Download the invitation card and the poster.
This event is part of the program of the Fête de l'estampe, French Printmaking Festival.
7 January - 27 February 2021
Exhibition
Underscape
Galerie Schumm-Braunstein, 9 rue de Montmorency, Paris 3e
Continuing the regular presentation of Anne Paulus' work, which confirms her taste for research between rigor and experimental openness, the Schumm-Braunstein Gallery is pleased to present her new solo exhibition, Underscape, in January and February 2021. With, in particular, several series of new works, prints (woodcuts) and ceramics. Also on display will be artist's books, including Pavé de mémoire, a leporello book of a felt print in dialogue with a text by Christian Doumet.
A catalog with a text by Michel Melot, and a film, directed and edited by Benoit Falize, are published by GSB for this occasion.
The artist will be present on January 7, 8 and 9 – limited access according to the sanitary measures.
The gallery is open from Tuesday to Saturday from 2:30 pm to 7 pm and by appointment.
Contact: evelyne.schumm@gmail.com
6 January - 9 February, 2021
Exhibition
Multiple & Papier
Galerie Grand E'terna, 3 rue de Miromesnil 75008 Paris
Artist Akané Kirimura gathers 13 visual artists to present a print and paper work exhibition in Gallery Grand E'terna in Paris.
With Akané Kirimura (commissaire), Sabine Delahaut, Mayumi Inoué, Eunice Kim, Yumiko Kimura, Mitsouko Mori, Noriyuki Moraki, Anne Paulus, Jun Sato, Go Segawa, Harué Takami, Carole Texier, Kanako Watanabé, Katsutoshi Yuasa.
Open from Tuesday to Saturday, 11 am -1 pm and 2 pm – 5 pm
2 - 25 October 2020
Event
1st international "Cartogravure"Biennal
Entr@cte gallery in Ville d'Avray, France
In Ville d'Avray, France, French association Carton Extrême Carton has organized an exhibition specially dedicated to the cardboard engraving technics.
8th International Woodcut festival of Ulsan, Korea
Ulsan (Corée)
du 14 mars au 5 juillet 2020
Exhibition
Îles
La Halle, Saint-Aubin-sur-Mer (14)
Malgré la disparition soudaine de Maurice Maillard, son président, et selon ses voeux, l'association Le Trait-Graveurs d'aujourd'hui présente une exposition autour du dernier Cahier du Trait intitulé Îles.
47 artistes présentent des estampes autour de cette thématique au sein de la galerie de La Halle de Saint-Aubin-sur-Mer (14).
Vernissage le 14 mars 2020 à 11h
Expo prolongée jusqu'au 5 juillet
Galerie La Halle, 72 bis rue Pasteur, 14750 Saint-Aubin-sur-Mer
Ouvert du mercredi au dimanche de 15h à 18h.
NB : 10 personnes maximum autorisées simultanément dans l'espace d'exposition.
15th October 2019 - 18th January 2020
Exhibition
Ancient world geography / Anne Paulus
Galerie Max Jacob, Médiathèque Alain-Gérard, Quimper
1st to 10th November 2019
Traineeship
Une récolte inattendue
Galerie Konoha, Tokyo, Japan
Japanese artists Toshiko Hoshida and Kayoko Sakamoto invite French artists Catherine Gillet and Anne Paulus for a print exhibition in Konoha Gallery, Tokyo.
Address :
Konoha Gallery
2 Mikura-cho, Chiyoda-ku, Tokyo
tel : (03) 3256-2047
Opening party 1st November 5.00pm – 7.00 pm
This exhibition est preceded and followed by 2 other print show Une récolte inattendue, in Gallery  Stage-1 (21 -> 26/10) et in Gallery Sekka-Bordeless space (6 -> 17/11).
All the information (artists presentation, addresses, opening hours) in presentation document.
Curators : Toshiko Hoshida et Kayoko Sakamoto.
du 14 janvier au 3 mars 2019
Exhibition, Traineeship
L'expérience du choix, Collection Gautier & Co
Orangerie de Cachan
La ville de Cachan présente la collection  [GAUTIER & Co], une collection d'art contemporain abstrait à travers l'expérience du choix (une exposition à vivre).
La ville de Cachan, invite les GAUTIER, qui habitent Cachan depuis 25 ans, à exposer plus de 100 oeuvres, une partie de leur collection (qui comporte plus de 300 pièces).
La collection [GAUTIER & Co] est le résultat de l'intérêt de Françoise et Bernard GAUTIER pour les arts visuels. Dès leur adolescence, ils ont eu besoin de vivre entourés d'oeuvres, surtout abstraites. Pour des raisons de budget, il s'agissait surtout au début, d'affiches, d'estampes (multiples) ou de petites oeuvres originales. C'est aujourd'hui, après plus de 40 ans, une collection cohérente et diversifiée, comprenant aussi des peintures sur papier et sur toile de grand format, des sculptures, des vidéos… Leurs choix sont intuitifs, mais s'appuient sur une vaste documentation et une connaissance des galeries et librairies, des ateliers d'artistes, du terrain, que ce soit pour l'architecture, le paysage et les oeuvres in situ…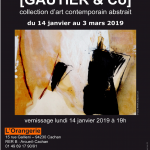 November 16, - December 8, 2018
Exhibition
Les chemins du carton gravé, Dominique Moindraut et Cie
L'Entr@cte, 3 rue de Versailles, 92410 Ville d'Avray
Dominique Moindraut présente une rétrospective de son œuvre gravé. Les estampes exposées témoigneront de 30 ans de ses recherches et de ses réalisations fondées sur le carton gravé.
L'exposition présentera également les estampes de 25 artistes invités par Dominique Moindraut.
du 8 novembre au 20 décembre 2018
Exhibition, Traineeship
Biblos
Galerie Schumm-Braunstein, 9 rue de Montmorency, 75003 Paris
Gallery Schumm-Braunstein, Paris, présents a collective exhibition about artist's books, prints,drawings and photography.
On this occasion will be presented Pavé de mémoire, a flet artist book published by Éditions GSB with 
Christian Doumet (author) and Anne Paulus (artist)
.
Opening reception for 
BIBLOS
 :
 Thursday, November 8, 2018, 6.00 pm
Opening hours : everyday from tuesday to saturday from de 2.30 pm  to 7.00 mp and by appointment.
du 3 novembre au 20 décembre 2018
Event, Exhibition
Sud Estampe, Anne Paulus at Saint-Quentin-la-Poterie museum
Musée de la poterie méditerranéenne, 14 place de la Fontaine 30700 Saint-Quentin-la-Poterie
During Sud Estampe biennal in south of France, Anne Paulus is invited to show her prints among Saint-Quentin-la-Poterie ceramic museum. 

Opening event : Saturday 3 November 11.00 am
du 9 au 26 août 2018 (vernissage le 8 août)
Exhibition, Traineeship
A.-M. Rubi et A. Paulus, dialogue filial
L'Escale d'artiste, 3 avenue du port, 17480 Le Château d'Oléron
Au Château d'Oléron, la galerie L'Escale d'artiste expose les peintures et estampes de Anne-Marie Rubi et les céramiques et livres d'artiste de Anne Paulus. L'occasion d'un dialogue filial.
Vernissage en présence de Anne-Marie Rubi le mercredi 8 août à partir de 18h.
Présence en finissage de Anne Paulus le dimanche 26 août à partir de 18h.